2021 "THE SHEARERS SHINDIG THARGOMINDAH"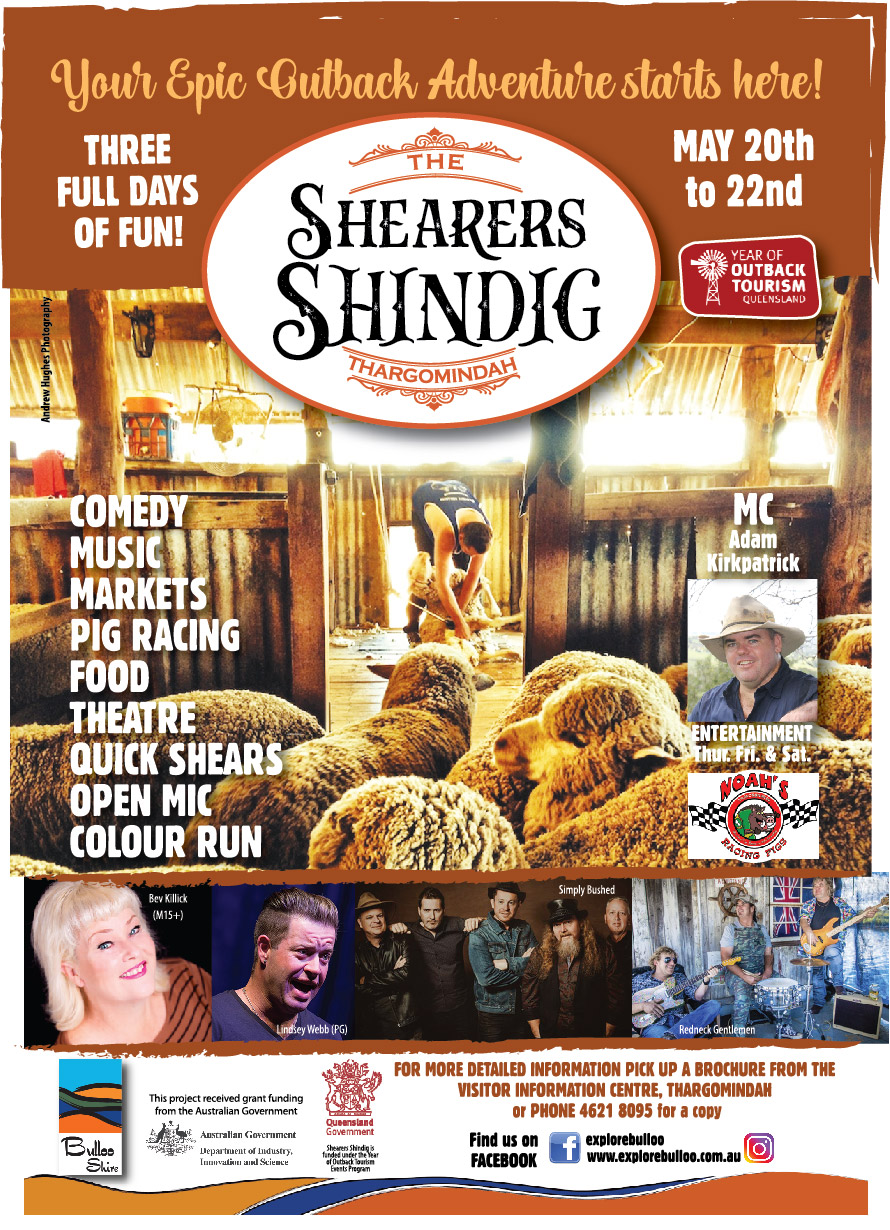 From Thu 20 May to Sat 22 May
Three days of family fun, this is an epic outback adventure you do not want to miss.
The Adventure Way, aptly named, is the road that takes you from Brisbane to Thargomindah and captures a trail of legendary Outback towns as well as the iconic Music in the Mulga festival which is held the weekend before The Shearers Shindig. Once you arrive in Thargomindah, there are so many things to explore. And besides the fantastic accommodation options in Thargomindah such as the Oasis Motel, Bulloo River Hotel and the Explorers Caravan Park we now also offer free Camping on the Bulloo River.
On Thursday, we head over to the Football oval which will be THE PLACE TO BE for the weekend ahead. At midday we will offer a shearers Lunch followed by the Shearers Shindig Colour Run/walk. Participate or watch on as young and the young at heart turn into walking rainbows. After we all get cleaned up and dressed up we get to unwind and be entertained. The Shindig Comedy evening features the Hilarious comedians Bev Killick and Lindsay Webb. Bar and Food available on the night.
Friday 22 May brings us a full day of fun and entertainment with market stalls, food vendors, big stage open mic, "The Storey Players" performance *The ghost of John King*, The Thargo Cup, featuring the famous Noah's pig Races, includes fashions of the field with prizes for best dressed Babes and Boars and last but not least we dance and party until the wee hours with country rock sensation, The Redneck Gentlemen. Bar and Food available all day.
Saturday 23 May, the day of the MAIN EVENT. After markets and open mic walk ups in the morning we are proud the present THE SHEARERS SHINDIG - QUICK SHEAR COMPETITION. This event showcases the wool industry which put us on the map and it also recognises and celebrates the talent of our local, national and international shearers. Sheep shearing is the most iconic trade in rural Australia with every shearer's ability measured by the number of sheep they can shear in a day. The legend continues at the Shearers Shindig - Quick Shears competition. Bar and Food available all day.
After such a true blue Ozzie competition what better way to finish our event then with the band that embodies the essence of Australian spirit "Simply Bushed". Together with "The Redneck Gentlemen" they will keep the big stage rocking and close off this
EPIC OUTBACK ADVENTURE that is THE SHEARERS SHINDIG
For more info on this event, call 07 4621 8095 or email tourism@bulloo.qld.gov.au
TICKETS:https://www.ticketebo.com.au/shearersshindig