Historic Royal Mail Hotel
Location:
Hungerford – 164 kms south of Thargomindah along the Thargomindah/ Hungerford Road (Dowling Track) on the Queensland / New South Wales Border
Accommodation:
Single, Twin & Family Room plus a Bunkhouse which accommodates 18 people
Facilities:
Shower and Toilet Blocks, and Laundry Facilities
Fully Licensed Bar, Dining Room, Post Office
Airstrip Coordinates:
Hungerford (YHRD) QLD Unlicensed
28 deg 59 min south, 144 deg 27 min east
Permission: Required from local Police (07) 4655 4088 or UHF 5
Fees: Nil; Var 9 E; Elevation 470ft; WAC 3356; Operator: Bulloo Shire Council
Runways: 09/27 Sealed 1100m. 18/36 Red Soil 800m.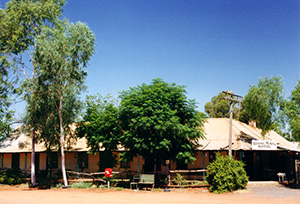 The Royal Mail Hotel is located in the main street of Hungerford on the Dowling Track and is within short driving distance of the Currawinya National Park. The Pub stands near the Queensland/New South Wales border adjacent to a large gate in the rabbit-proof Dog/Dingo Barrier Fence, which allows access between the States. Accommodation is available at the Royal Mail in a number of rooms, including a single, twin and a family room plus a Bunkhouse, which accommodates 18 people. There are Shower and Toilet Blocks, and Laundry Facilities on the grounds of the Hotel for guests.
The Hungerford "Royal Mail Hotel" was constructed in 1873 of corrugated iron, which was transported over 200 kms from New South Wales on bush tracks. It is the original building, which is still in use to this day. The Royal Mail was originally a Cobb & Co Staging Post where weary horses and travellers gained some respite from the road, heat and infrequent floods. Even Henry Lawson, the Poet, had an Ale at the Royal Mail, and a welcome break from the harshness of the Outback countryside. The Royal Mail, as it was in the past, is still a meeting place for the locals, families, shearers, stockmen, and a resting place for travellers who all enjoy the homely, unsophisticated, friendly feel of this iconic Outback Pub. Many visitors use the Royal Mail Hotel as a base for visits to the Currawinya National Park.
The Royal Mail offers:
Eftpos and Credit Card facilities
Meals in the Dining Room or Beer Garden
Tea and Coffee
Soft Drinks and Ice Cream
Souvenirs
Post Office facilities
Local Tourist Information and Brochures
Public Phone Box (Phone Card Only)
Unleaded Fuel and Diesel
Contact Details:
Graham Fitch
Royal Mail Hotel
9 Archenar Street
Hungerford QLD 4493
Phone: (07) 4655 4093
Fax: (07) 4655 4093