How to Get Here
Thargomindah now offers self-operating fuel facilities with the convenience of 24hrs a day, Eftpos/Credit Card Access.
Just because you don't have a 4WD and a camping trailer, don't dismiss a visit to the Outback, and in particular Thargomindah. Travel a loop from Sydney via Dubbo and Bourke, up through Barringun to Cunnamulla and then on to Thargomindah. Continue the Natural Sciences loop and head back towards Brisbane.
You'll travel on good sealed roads all the way with motel, hotel or cabin accommodation at easy intervals along the road. The great legacy of the Cobb & Co era, and the unreliable cars of the past is that every hundred kilometers or so, you will find a pub… and the furthest between unleaded or diesel fuel stops is about two hundred kilometers (call ahead to check availability of LPG)
Accommodation is generally available, however when travelling as a family it is an idea to book in advance to secure a room, especially in the cooler months.
While you may not think there is much to see without leaving the bitumen in Outback areas, with a little help and some research there are a multitude of fascinating things to be found. Memory Maps is a useful App which details many things that can be seen from the side of the road if you know where to look for them.
This is the easy way to see the Outback. It's interesting, it's varied, it's civilized and you can even get great coffee along the way. So book a few rooms, make sure the kids have digital cameras and head on out to capture your own adventure.
The Natural Sciences Loop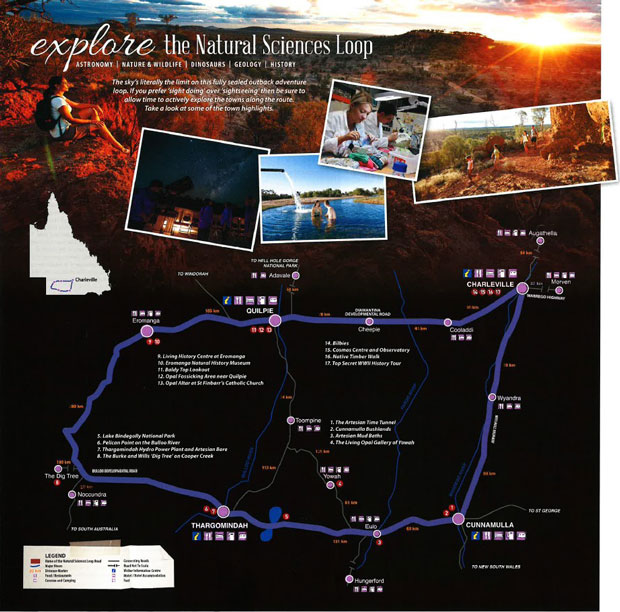 The Natural Sciences Loop is a fully sealed bitumen road network loop which provides easy access to the most amazing natural wonders of Queensland's South West Outback.
Artesian Time Tunnel at the Cunnamulla Fella Centre; Cunnamulla Bushlands; Artesian Mud Baths at Eulo; The Living Opal Gallery of Yowah; Thargomindah Hydro Power Plant and Artesian Bore; The "Dig Tree" at Nappa Merrie Station; Lake Bindegolly National Park; Pelican Point on the Bulloo River ; Living History Centre at Eromanga; Baldy Top and Table Top Lookout ; Opal Fossicking near Quilpie; Opal Altar at St Finbarr's Catholic Church ; Bilby Centre at Charleville; Cosmos Centre & Observatory ; Charleville Mulgalands Botanical Reserve
The Adventure Way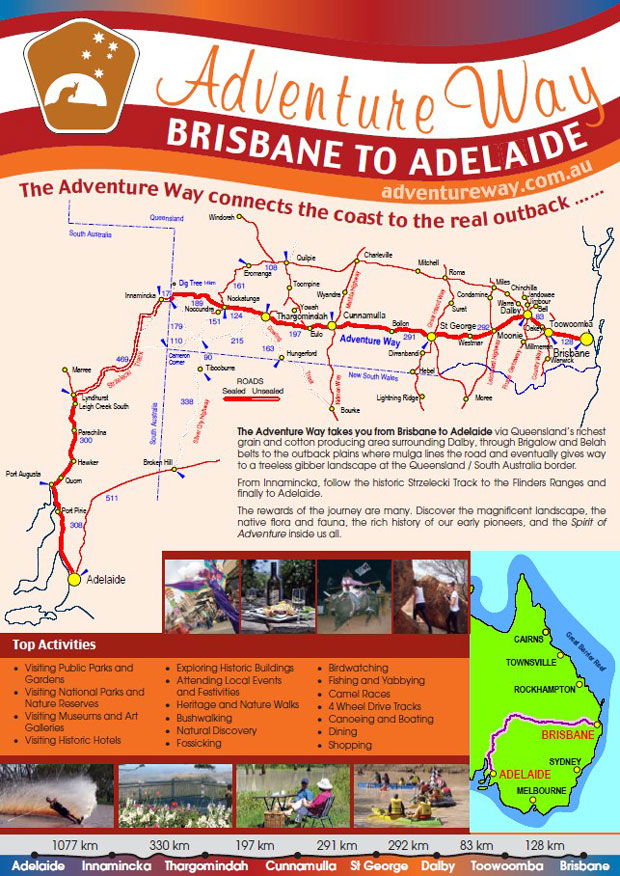 The Adventure Way takes you from Brisbane to Adelaide via Queensland's richest grain and cotton producing area surrounding Dalby, through Brigalow and Belah belts to the outback plains where mulga lines the road and eventually gives way to a treeless gibber landscape at the Queensland/South Australia border.
From Innamincka, follow the historic Strzelecki Track to the Flinders Ranges and finally to Adelaide.
The full length of the Adventure Way is approximately 2400 km, of this, less than 500 km consists of gravel roads, making this quite a reasonable trip from Brisbane to Adelaide.
The Dowling Track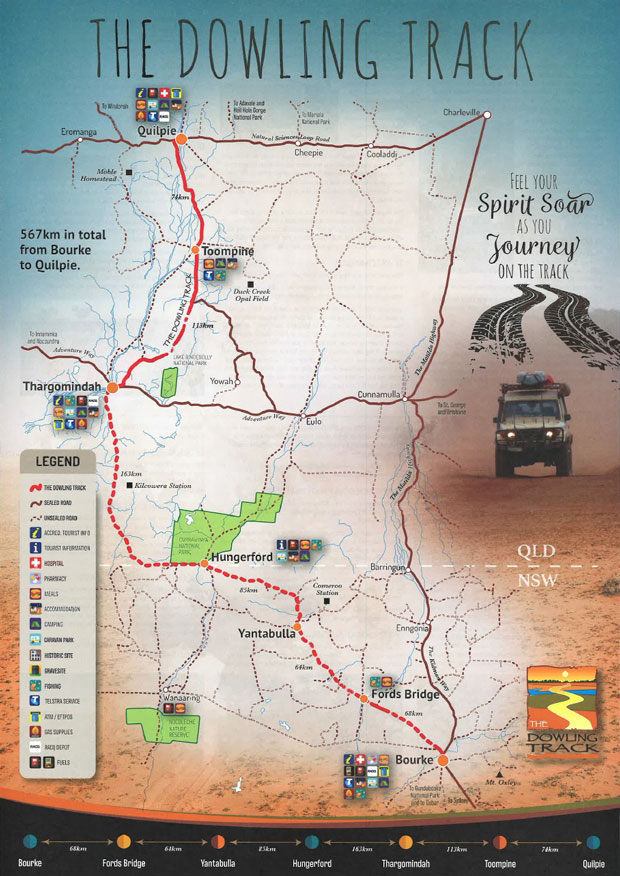 The Dowling Track links Bourke and beyond to Quilpie in South West Queensland. This is a soft 4WD adventure and an ideal introduction to gravel roads and life in the outback.
Travel in the footsteps of Vincent James Dowling and other early pioneers who over 100 years ago discovered this area, known as the "Plains of Promise" - people travelled the track looking for a new life and new opportunities.
Travelling through the remains of towns such as Ford's Bridge and Hungerford you fast gain an appreciation for how tough life must have been here for our early settlers. The Ford's Bridge Hotel and the Royal Mail in Hungerford provide a welcome place for a cool drink and a chat.
The Dowling Track consists of a reasonably well maintained gravel road that in dry conditions just requires the additional clearance of a 4WD vehicle. The Track ranges from brilliant to a little rocky to sandy in places.
Kilcowera Station and the Ramsar listed Currawinya National Park are both accessed via the Dowling track.
Travel by air


Road Reports (click on logo)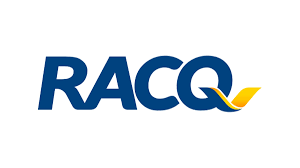 Qld Road Reports (click on logo)