Thargomindah Station Cottage
While travelling throughout the Bulloo Shire for work or leisure why not treat yourself to a stay at Thargomindah Station in their newly renovated cottage.
Your stay comes complete with a fire pit, an outdoor clawfoot bathtub, access to the stations swimming/fishing waterhole and sunsets that aim to impress.
LUXURY in THE OUTBACK
Life is truly unmatched at Thargomindah Station Cottage. Whether you choose to luxuriate in the seclusion of the cottage, bathe in your own outdoor bath, or take advantage of the fire pit and camp oven cooking, these are just some of the luxuries on offer.
Experience everything Thargomindah Station has to offer
Accommodation
Camping, fishing, and yabbying
Swimming, kayak, SUP
Station Tours*
Outback Cooking
...and much more
*subject to season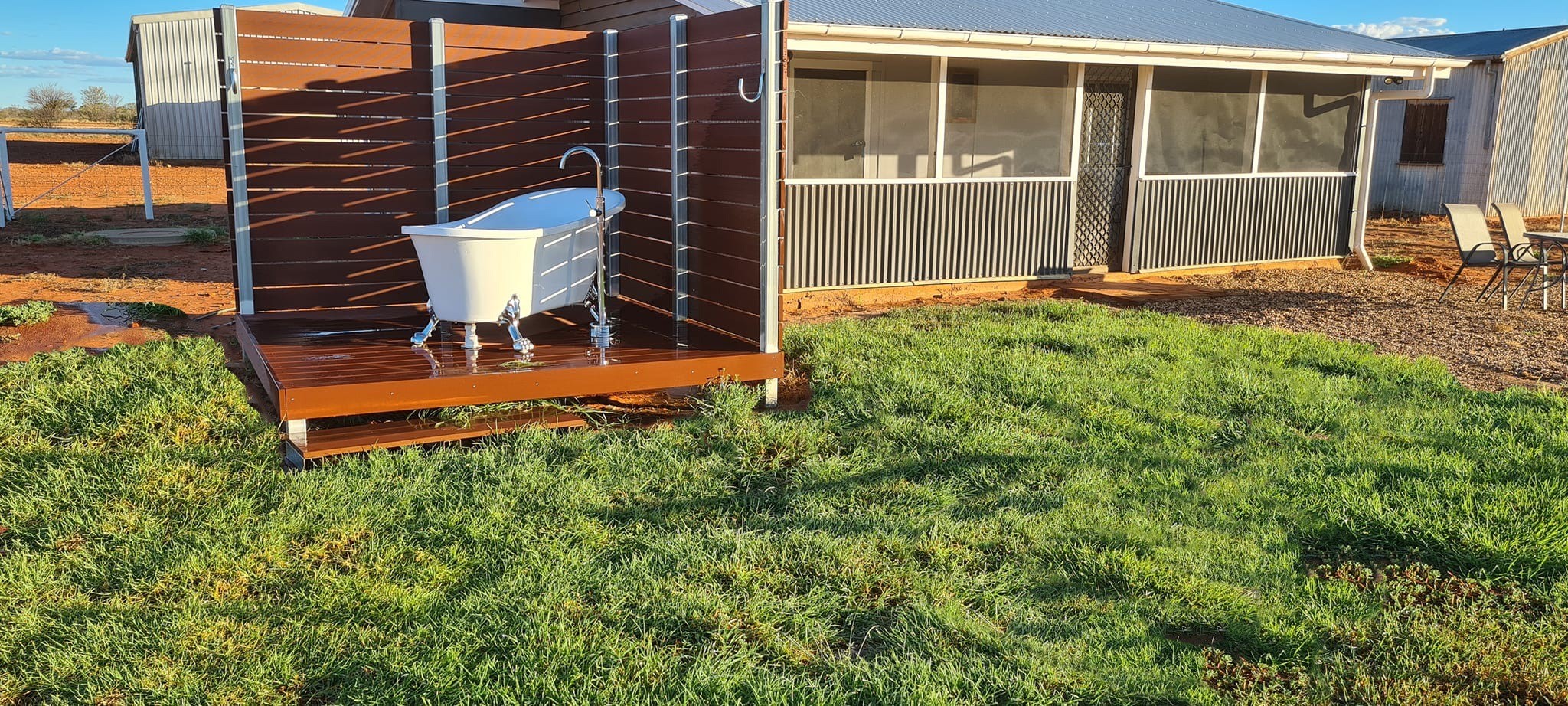 LOCATION
You can find Thargomindah Station Cottage on the banks of the Bulloo River. Thargomindah Station is located 4.34km on Hungerford Road from the Cunnamulla Road. Fully accessible with a 2 wheel drive vehicle.
Comfort and Luxury in the Outback!
Thargomindah Station is a family operated 125,000 acre cattle station (hoping to have sheep soon). We are relatively new to the area having moved from down south from the NSW/Victorian border 2 years ago. We look forward to welcoming you to our Outback Queensland Paradise!
​Travelling can be an exhausting experience. Enter Thargomindah Station, where style, comfort, luxury and hospitality meet. Our commitment to service is paramount and our prices are unmatched. Take a look at our site to find out more about our Accommodation, tours and experiences, or check out the services that we offer. Can't find what you're looking for? Give us a call!
CONTACT US TODAY!
ADDRESS
Thargomindah Station
434 Hungerford Road
PHONE
0419495438
WEBSITE
www.thargomindahstation.com
EMAIL
thargostn@outlook.com