Noccundra Hotel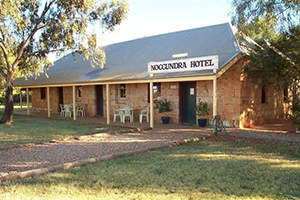 The Noccundra Hotel is owned by Nockatunga Station, and today it serves as a meeting place for locals, families, stockmen, and travellers alike, all of whom enjoy the unsophisticated atmosphere of this remote and isolated Pub. The Hotel is a popular rest stop or overnight stay for visitors driving to the "Dig Tree", Innamincka, Cameron Corner, Thargomindah, and all points in between.
Hotel accommodation is provided in Dongas (demountable buildings), with three (3) double rooms, eight (8) twin rooms, and fourteen (14) single rooms available. Communal showers and toilets are provided near the Dongas for guests, with five showers, and five toilets available on site. Public Toilet facilities are also provided adjacent to the Hotel with two (2) showers, and five (5) toilets for females, and two (2) showers, and two (2) toilets for males.
Free bush camping is available adjacent to the Noccundra Waterhole on the Wilson River Reserve. Noccundra Hotel has an unsealed airstrip directly behind it, and many visitors fly in, park their planes at the front of the Pub, and enjoy a drink and a meal, then fly out again. The Noccundra Waterhole is a great fishing spot, and an ideal camping area. A monument to the ill-fated Hume expedition is located in the Hotel grounds. Hume died of thirst just west of the present town, while searching for survivors of the lost Leichhardt expedition. Noccundra holds a Campdraft, Rodeo, Horse and Motorbike Gymkhana, and a Bull Ride every October, weather permitting.
The Noccundra Hotel is the only original surviving building in the historic township of Noccundra, and it serves as an important link with the establishment of pastoral settlement in the area. The Hotel was built of locally quarried sandstone, and transported to Noccundra by Camel Train. The township of Noccundra has an official population of four (4) people, and is situated adjacent to the Wilson River, 142kms west of Thargomindah.
Mr James Gardiner was granted the first License for the Noccundra Hotel in 1886. The Hotel was an important link in Outback communications, and became a service point for travellers and as a focus for community events. It has served as a venue for medical and dental Clinics run by the Royal Flying Doctor Service (RFDS), and for meetings of a Social Club, and a Racing Club that raise funds for the RFDS. The Hotel was Heritage Listed by the National Trust In 1977.
The Noccundra Hotel offers:
Eftpos and Credit Card facilities
Public Phone Box (Phone Card Only)
Meals and Snacks at the Bar, in the Dining Room or Beer Garden
Tea and Coffee
Soft Drinks and Ice Cream
Souvenirs
Unleaded Fuel and Diesel
Local Tourist Information and Brochures
Adjacent to the Hotel, the Bulloo Shire Council provides the following facilities:
Children's Playground
Tennis Court
Public Hall
Public Shower and Toilet Facilities
Points of Interest
Hume Memorial
Old Cemetery
Noccundra Waterhole
Wilson River – Camping, Fishing and Bird Watching
Location
Noccundra – 142 kms west of Thargomindah along the Adventure Way
Accommodation
Dongas
Activities
Shower and Toilet Blocks, and Laundry Facilities Fully Licensed Bar, Dining Room
Airstrip Coordinates
Noccundra (YNCD) QLD Unlicensed 27 deg 48 min south, 142 deg 35 min east
Permission: Not Required;
Fees: Nil; Var 8 E; Elevation 300ft; WAC 3342;
Operator: Neil Turner – Noccundra Hotel
Runways: 04/22 Red Gravel 1500m. 13/31 Red Gravel 800m
Lighting: Emergency Flares;
Windsock Spec Proc: W side Wilson River. Taxi to back door of Hotel